About
Summary
Last.FM metadata fetcher.
Full
The Last.FM metadata fetcher is taking all kinds of metadata from last.fm for your music collection.
The following metadata is taken from last.fm:
Artist Images
Artist Biography
Album Covers
Similar Artist
Similar Songs
Similar Genres
Screenshots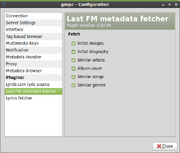 Requirements
Download
Stable
Old
Unstable
This plugin is located on repo.or.cz here

To get a checkout:
git clone git://repo.or.cz/gmpc-last.fm.git

Ad blocker interference detected!
Wikia is a free-to-use site that makes money from advertising. We have a modified experience for viewers using ad blockers

Wikia is not accessible if you've made further modifications. Remove the custom ad blocker rule(s) and the page will load as expected.