Ad blocker interference detected!
Wikia is a free-to-use site that makes money from advertising. We have a modified experience for viewers using ad blockers

Wikia is not accessible if you've made further modifications. Remove the custom ad blocker rule(s) and the page will load as expected.
About
Summary
Last.FM metadata fetcher.
Full
The Last.FM metadata fetcher is taking all kinds of metadata from last.fm for your music collection.
The following metadata is taken from last.fm:
Artist Images
Artist Biography
Album Covers
Similar Artist
Similar Songs
Similar Genres
Screenshots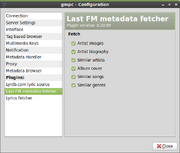 Requirements
Download
Stable
Old
Unstable
This plugin is located on repo.or.cz here

To get a checkout:
git clone git://repo.or.cz/gmpc-last.fm.git