The Wikipedia plugin shows information about the current artist.
A plugin that shows the Wikipedia page of the currently playing artist.
The information is shown in a new tab of the player.
The plugin depends on webkitgtk. You can get it from http://live.gnome.org/WebKitGtk or from apt(Ubuntu users)
Screenshot
Edit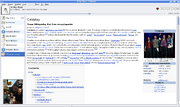 Prerequesites
Edit
On Ubuntu systems, before compiling you need to install
Download
Edit
Unstable
Edit
This plugin is located on repo.or.cz here To get a checkout:
git clone git://repo.or.cz/gmpc-wikipedia.git

Ad blocker interference detected!
Wikia is a free-to-use site that makes money from advertising. We have a modified experience for viewers using ad blockers

Wikia is not accessible if you've made further modifications. Remove the custom ad blocker rule(s) and the page will load as expected.